Rent a farmhouse in Tuscany - Arezzo
Le Gret
Farmhouse in Tuscany: 3 detached units + 7 apartments can accommodate 2 to 6 persons.
Near Arezzo - Tuscany farmhouse Le Gret extends on an area of 610 acres which are fully turned into biologic certificates, on a hillside adjacent to the National Park of Casentino. The original building dates back to the sixteenth century.

Detailed info; prices; availability

inquiries on this villa in Tuscany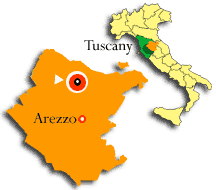 The farmhouse has 3 villas and 7 apartments which have been recently rebuilt using authentic materials like "cotto" flooring (cooked clay tiles), wooden and stone beams.
Guests can use a lounge equipped with oven, a fireplace and an open-space area to socialize around a roast or a pizza. At the farmhouse shop, biologic products grown on the farm's fields are for sale, like white and black truffles, fruits, vegetables, honey.
If you are thinking of organizing a company meeting in a farmhouse near Arezzo in Tuscany, Le Gret is organized to host them; all inquiries are welcome.
The closest towns are:
Arezzo 10 mi.
Perugia 35 mi.
Sansepolcro 15 mi.
Cortona 30 mi.
Siena 40 mi.
Florence 40 mi.
Rome 160 mi.
Subbiano 3 mi.
Bibbiena 8 mi.
Poppi 10 mi.