Villa in Toscana- Arezzo
Relais Villa Baldelli
Relais in Tuscany: with fifteen bedrooms created by the restoration, in the main house and in the dower house, are all different in terms of size, shape and decoration, each one elegantly furnished with antique pieces and carefully chosen fabrics which add to the beauty and atmosphere of the villa. All the bedrooms have colour satellite television, mini-bar and safe.
Relais Villa Baldelli dates back to 1600 and still carries the name of the local family which owned the villa. The owners bought the building, in it's abandoned state, a few years ago with the intention of restoring it to its former glory and tranforming it as a charming 'relais' with every modern comfort whilst faithfully keeping it's original design.



Detailed info; prices; availability

inquiries on this villa in Tuscany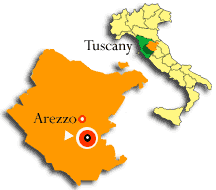 The external architecture remains as it was with it's irregularly placed windows, brick arches and doorways in worked 'pietra serena'. Inside the villa, the characteristics of a bygone age have also been retained; walls in lime plaster, brick ceilings supported on chestnut beams, terracotta floors, doors and fittings, all restored using original materials, are complemented by colours, patterns and decorations of the period. The result of all this care is a delightful intimate hotel with echoes of the medieval country rhythms of life essential for a peaceful relaxed stay.

The twelve acres of park, with it's enormous old trees and established plants, provide a perfect backdrop to the hotel and offer an encouragement to those who like to wander gently through a beautiful setting. Here you will find the swimming pool with it's panoramic view of Cortona and the two hole golf course, shortly will be realized practice and putting greens.
Very near the Relais Villa Baldelli there is a riding school where rides through the woods up to Monte S. Egidio or across the valley to Lago Trasimeno can be arranged for our guests.


Relais Villa Baldelli, nestles beneath the impressive hillside on which Cortona was built. It is near Arezzo in Tuscany in the centre of the 'golden triangle' of some of the most important artistic sites in central Italy; Arezzo, Perugia, Siena, as well as Assisi and Florence are just a short journey away.