Farmhouse for rental in Tuscany - Arezzo
Sant'Agata
Farmhouse in Tuscany with 6 apartments can accommodate 2 to 6 persons and a relaxing swimming pool.
In a little rural village "Cantalena" near Cortona, lies is the farmhouse "Sant'Agata".
The farmhouse Sant'Agata belong to a farmer family. Running across a levelled road, where it will be possible to admire a beautiful area rich of chestnut groves and oak groves, you will reach the farmhouse.

Detailed info; prices; availability

inquiries on this villa in Tuscany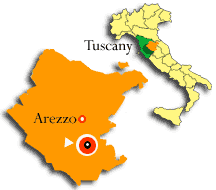 The village is built around the ancient church of Sant'Agata, built in 1200, from which the farmhouse derivd her name.
It is one of the most interesting historical areas of cortonese's mountain. In this village still today the life maintain a different rhythm respect to our time, a rhythm more quiet and more relaxed.
Here it's still possible to breathe kindness, and a climate of help and solidarity, typicals of mountain people. Long hikes and chestnuts and mushrooms harvest.
The farmhouse is composed by 6 apartments fully restored and independent.
Outside there are a swimming pool, a green area for children, barbecue, wood oven. The owners, Valter and Roberta are available to prepare typical tuscan dishes. A holiday at the farmhouse Sant'Agata will allow you to discover the typical mountain life and the old traditions when renting this farmhouse near Arezzo - Tuscany.
The closest towns are:
Arezzo 15 mi.
Perugia 40 mi.
San Sepolcro 20 mi.
Cittą di castello 20 mi.
Siena 50 mi.
Florence 60 mi.
Rome 140 mi.
Cortona 6 mi.
Camucia 10 mi.
Castiglion Fiorentino 6 mi.