Rental villas in Tuscany - Arezzo
La Pievuccia
Villa in Tuscany:4 apartments can accommodate 2 to 8 persons.
Villa La Pievuccia near Arezzo, Tuscany, between the hills of Castiglion Fiorentino and Cortona in the heart of the Valdichiana in an area which has produced wine and olive oil for centuries.
The estate covers an area of over 200 acres which is divided into vineyards, olive groves, woodland and cropland used to grow produce which is rigorously certified organic.

Detailed info; prices; availability

inquiries on this villa in Tuscany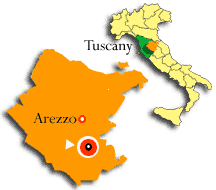 This Tuscan villa boasts a garden full of trees, flowers, aromatic herbs and lawns where guests are free to roam.
There is also an area equipped with grill for barbecues, a playground area with swings together with an area whith deck chairs and a hammock.
There is a swimming pool which is open from May to September and guests can also take bikes to the nearby Parco delle Comunanze which skirts along the farm's olive groves.
From here one can get a magnificent view of the Val di Chiana. Guests can go horse riding too or go flying an ultra-light aircraft at the nearby "Serristori" flight centre.
In the dining room of the villa guests can choose to savour the farm produce which is rigorously produced using organic methods from vin santo, olive oil, honey truffles and vegetables from the garden, to home-made bread and free range meats cooked in a traditional oven together with traditional dishes of the area which are given an added flavour and a personal touch with the use of local herbs.
All are served in a homely family setting within this villa for rental in Tuscany.
The closest towns are:
Arezzo 12 mi.
Perugia 35 mi.
Sansepolcro 25 mi.
Cittą di castello 35 mi.
Siena 45 mi.
Florence 50 mi.
Roma 120 mi.