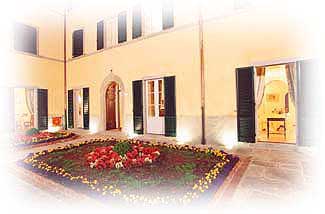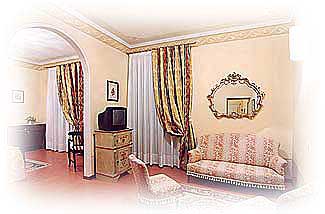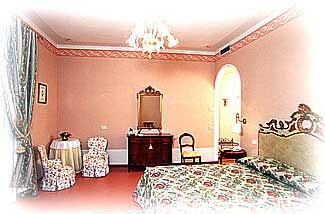 Hotel Villa Marsili

Hotel Villa Marsili Charming Hotel with 26 bedrooms, of which 3 are suites and 6 de-luxe bedrooms.
Villa Marsili is a four star hotel, very close to the historic centre of the beautiful Etruscan and Medieval hill town of Cortona, in Tuscany.
The building, originally an ancient 15th century Church, was converted into a patrician "Palazzo" (Villa Marsili) in 1786. The recent
renovation of the villa has allowed the recovery of architectural and stylistic features lost over the centuries through earlier restoration. Villa Marsili offers guests a breakfast buffet with a rich selection of our Tuscan specialities.
Not only that..everyday in the evening our guests may enjoy a complimentary aperitif on
our garden terrace with its atmospheric view of Valdichiana valley and the Trasimeno Lake.
The Hotel has its own restaurant, a conference room and private garage. We have always
thought of this hotel as a private residence, and therefore we have tried to make it as much
comfortable as we could: warm, rich in details, in order to offer you the best comfort, allowing you to rest if on holiday and to concentrate if
on business. We look forward to contributing to your well-being.

Detailed info; prices; availability

inquiries on this villa in Tuscany

The hall and the 26 bedrooms (among which are 3 suites and 6 de-luxe bedrooms en-suite with Jacuzzi, direct dial telephone, Internet connection, air conditioning, mini-bar and safe) are finely and elegantly decorated and
frescoed, each uniquely one from the other. All rooms have their own bathroom, tub and/or
shower, adjustable air conditioning, minibar, safe box, TV set, telephone and internet connection. The same intimate atmosphere pervades the breakfast lounge, the sittingrooms
with the fireplace and the scenic
pergolas of the outdoor gardens where you can have a relaxing tea while enjoying the lovely view.


The closest towns are:
Pisa 190 Km.
Montalcino 65 Km.
Chianti Area 30 Km.
Florence 100 Km.
Rome 190 Km.
Arezzo 30 Km.
Siena or Assisi 70 Km.
Montepulciano 34 Km.
Montalcino 65 Km.