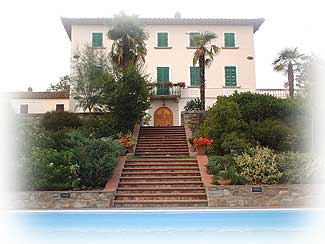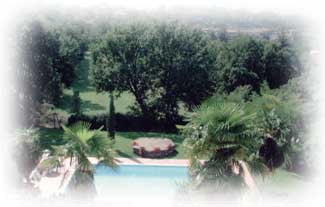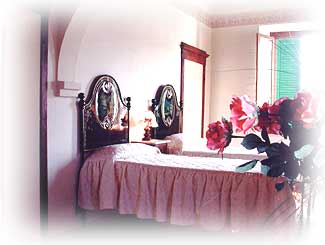 Villa Le Fonti
Luxury villa with six letting bedrooms an five bathrooms, can accommodate 12 (+4) people. Relaxing Swimming pool in the garden.A Tuscan construction family
from Arezzo built the beautiful Villa of approx 800m2 during the later part of the 18th century. The Name 'Le Fonti' comes from the area very rich in underground springs, which was used for drinking, irrigation and for the animals. Even today there exists an underground spring from
which water pours. During the years the Villa has had several different owners before being acquired by the current owners the Parigi family, who began its complete restoration. A process that required years of work which rendered the Villa with all the modern comforts, yet at the same time, by way of a methodical
research, has maintained its original state including traditional timber girders ceilings and handmade terracotta floor tiles, and hand painted walls, with typical Italian gardens. Villa Le Fonti is surrounded by 15000 m2 of gardens with a 12m
x 6 meters swimming pool and is
an ideal place to holiday in the heart of Tuscany.

Detailed info; prices; availability

inquiries on this villa in Tuscany
The villa is divided into three levels, from which one arrives at the private terrace. The ground floor is
comprised of a grand entrance, through to the lounge room with views and access over the gardens, the dining room with its characteristic fireplace, the kitchen and a bathroom. From the dining room, one accesses directly onto the veranda which overlooks the gardens and which is most suitable for dinners and lunches, during the
winter months the covered veranda is filled with terracotta pots filled with lemon trees, orange, grapefruit ad mandarin trees, which during the summer months ornament the gardens. The 'pietra serena' (Stone) staircase leads to the first floor there is a welcoming lounge room, which leads to the bedroom with its private en-suite, another large room that leads directly on to the large terrace. Next you will find a large
bathroom with shower. On the next floor we find another large lounge room from where one can enjoy a
splendid view of the hamlet of Quarata and which leads onto another four bedrooms and three bathroom with jacuzzi and sauna. Each floor has independent heating.
The villa has an internal apartment with separate entrance which sleeps 4 people. This apartment is only rented as a part of the villa and never rented seperately.


The closest towns are:
Arezzo 5 Km.
Florence 60 Km.
Assisi 110 Km.
Cortona 28 Km.
Pisa 170 Km.
Siena 65 Km.
Rome 200 Km.