Farmhouse in Tuscany - Arezzo
Il Pozzeto
Villa in Tuscany: 5 apartments can accommodate 2 to 5 persons.
Il Pozzetto is a Tuscanian farmhouse between Arezzo, Cortona, and San Sepolcro.
All the apartments have:
bath/shower
stove
refrigerator
satellite TV
heating
Internet hi-speed connection (ISDN) connection in each apartment.

Detailed info; prices; availability

inquiries on this villa in Tuscany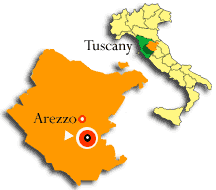 The farmhouse as you can see it today is the result of the refurnishment of an architectural work dating back to the seventeenth century.
Leaving Anghiari, after seven kilometres of country road, you will find Il Pozzetto, which used to be a hermitage of Franciscan friars in the last centuries.
A typical room with a fireplace is available for all the guests in the residence. On a large lawn, located in a panoramic position, a barbecue fireplace and a swimming pool (12X5 mt) ensure sweet moments of relax and amusement.
You can practise hiking, mountain biking or on horseback riding when renting this farmhouse in Tuscany.
The closest towns are:
Arezzo 20 mi.
Anghiari 4 mi.
Sansepolcro 10 mi.
Cittą di castello 15 mi.
Sovara 3 mi.
Tavernelle 4 mi.