Renting villas in Tuscany - Arezzo
Il Fienile
Relais in Tuscany: follows a formula akin to that of the French Relais and the English Country House. A formula consisting of five basic ingredients: Character, Courtesy, Calm, Charm, Cuisine
Relais il Fienile is an elegant, welcoming and environment-friendly villa in Tuscany.
Ideal for those seeking peace, good taste and comfort in a villa in Tuscany but wishing also to explore the many - and as yet largely undiscovered - riches offered by the Casentino: scenery, touring and trekking, history, religion, art, artisan work, and shopping.

Detailed info; prices; availability

inquiries on this villa in Tuscany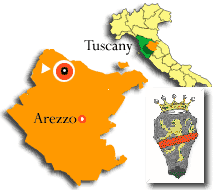 The building (an old farmhouse restructured with traditional materials - local stone, exposed wooden beams, Florentine terracotta) is surrounded by a green, tree-lined park, a swimming pool, a large car-park, and several acres of estate . On the ground floor there are the reception rooms (a portico, sitting rooms for chatting or simply relaxing in, a dining and breakfast room). On the other floors there are the guests' bedrooms, each with its own bathroom, and each tastefully and simply decorated.
In an environment where special attention is given to service and hospitality, the owners live in the house alongside their guests, serving a breakfast of homemade produce and, on request, dining with them at a "table d'h˘te" - an opportunity for pleasurable conversation, which may well extend into the evening before the flames of an ancient fireplace.
Relais Il Fienile is your best choice if you seek relax and comfort in a rustic setting when renting a villa in Tuscany.
The closest towns are:
Arezzo 20 mi.
Perugia 60 mi.
Sansepolcro 40 mi.
CittÓ di castello 50 mi.
Siena 60 mi.
Florence 40 mi.
Rome 150 mi.
Cortona 45 mi.
Bibbiena 2 mi.
Poppi 5 mi.