Farmhouse rental in Tuscany - Arezzo
Il Giardino di Fontarronco
When you rent this villa near Arezzo - Tuscany, traditions come back alive.
If you are looking for a place to enjoy nature, simplicity and elegance, then this 18th Century villa, owned by the Illuminati Family is for you.

Detailed info; prices; availability

inquiries on this villa in Tuscany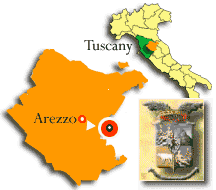 It has been meticulously restored and furnished with style and elegance using antique furniture and a swimming pool
There are ten apartments available of various configurations designed for a relaxing and invigorating holiday in the heart of the green hills of Tuscany. It make a perfect base to discover the numerous and magnificent cultural and artistic sights nearby. Florence and Siena are only a 30 minutes drive away and Arezzo with its world famouse Antiques fair is only ten minute by car.
All of these cities make ideal day trips when renting this villa in Tuscany.
The closest towns are:
Arezzo 6 mi.
Monte San Savino 2 mi.
Alberoro 0.5 mi.
Siena 25 mi.km
Florence 40 mi.
Assisi 45 mi.km
Cortona 15 mi.
Montepulciano 25 mi.
Perugia 35 mi.
Rome 120 mi.