Rental villas in Tuscany - Arezzo
Casa Portagioia
Bed and Breakfast in Tuscany: five letting bedrooms and 2 indipendent apartments can accommodate 2 to 4 persons.
Casa Portagioia is nestled in the beautiful Valle Di Chio ("Valle Di Dio" - exclaimed the Grand Duchess Ferdinando II de Medici whilst looking at the valley from the picturesque town of Castiglion Fiorentino). Surrounded by olive groves and the distinctive Tuscan countryside, you can enjoy a leisurely stay all year round absorbing the atmosphere, dining on the delicious local cuisine, enjoying the wine and meeting the delightful people of this beautiful region.

Detailed info; prices; availability

inquiries on this villa in Tuscany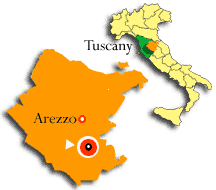 Residence Portagioia offers 5 independent letting bedrooms and two apartments. Each tastefully furnished with its own bathroom, air-conditioning, central heating and satellite television. The 5 bedrooms can be arranged to provide either double or twin sleeping accommodation. The apartments include fully fitted kitchens and wood-burning stoves. The larger apartment has its own private terrace. Each room offers beautiful views of the surrounding countryside.
The swimming pool overlooks the magnificent views around the valley and its position provides sunshine right up to sundown. Here you can relax, read a book or just soak in the panorama of the valley - what could be better?
From here one can get a magnificent view of the Val di Chiana. Guests can go horse riding too or go flying an ultra-light aircraft at the nearby "Serristori" flight centre.
The countryside around Pieve Di Chio and Castiglion Fiorentino is some of the most beautiful you will find in Tuscany. Cypress trees together with olive groves, vines, oaks and evergreens are in abundance and in the summer the landscape is transformed to include the golden hues of grain and sunflowers. In the spring many fields are a sea of crimson poppies.
Portagioia is ideally situated for visiting the historic towns of Tuscany. Arezzo, Cortona, Montepulciano, Chianciano, Siena and Florence are easily reached by car and for further convenience; there is a train station in Castiglion Fiorentino.
The closest towns are:
Arezzo 11 mi.
Assisi 47 mi.
Cortona 9 mi.
Chianciano 35 mi.
Florence 56 mi.
Perugia 31 mi.
Pisa 106 mi.
Rome 125 mi.
Siena 38 mi.