Farmhouse rental in Tuscany - Arezzo
Ca Lucano
Farmhouse in Tuscany: with 6 apartments can accommodate 2 to 4 persons + 4 double bedrooms hotel-style.
At 8 miles from Arezzo - Tuscany - farmhouse Ca Lucano is perched on a beautiful hilltop overlooking
Val Cerfone; a splendid valley in the middle of the Tuscan countryside.
Close to typical Tuscanian restaurants wineries and farms. Ideal location for those wanting to explore and drive around to discover more about the culture and traditions of Tuscany.

Detailed info; prices; availability

inquiries on this villa in Tuscany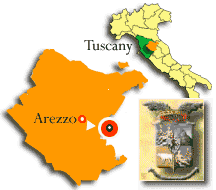 The central structure of Ca Lucano and its adjoining annexes have been carefully restored to unveil the origins and history of this quaint hamlet. Over the centuries, the ancient monastery was refurbished and transformed into colonial habitats.
Today, recent restoration showcase the original characteristics of Ca Lucano: bare stone walls, wooden beams and "cotto" flooring (cooked clay titles). Accommodation is in 4 apartment whit fully furnished kitchen and private bathroom;
There is a swimming pool (16x8m), a pizzeria and a small restaurant offering a wide array of Tuscany specialties and pizzeria.
Two kilometres from Ca Lucano, guest can play tennis on open courts equipped with a night lighting system. Mountain bikes are also available for hire when renting this farmhouse near Arezzo - Tuscany.
The closest towns are:
Perugia 50 mi.
Sansepolcro 15 mi.
Cittą di castello 20 mi.
Arezzo 8 mi.
Siena 45 mi.
Florence 45 mi.
Rome 120 mi.
Cortona 20 mi.
Palazzo del Pero 1 1/5 mi.