Farmhouses in Tuscany - Arezzo
Villa Serena
Farmhouses in Tuscany formed by Villa Serena (6 sleeping accomodations) and its annex Serenella (2 sleeping accomodations) and Limonaia (2 sleeping accomodations).
An aristocratic 19th century villa amidst the enchanting greenness of the countryside, the sacred silence of history, and the infinite valley.
Within short distance from the narrow streets of Cortona, its gardens, its position, and its elegance constitute the more apparent elements of this living complex.

Detailed info; prices; availability

inquiries on this villa in Tuscany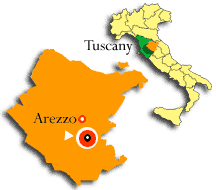 Protected from above by Etruscan walls, Villa Serena, with its 250 square meters of living space, looks down upon the Ghibelline battlements of the tall tower of the princely renaissance estate of Palazzone. Below, spreads the immense Valdichiana, enclosed by the sinuous profiles of the Appenine foothills which are dominated by the conically perfect shape of Mt. Amiata, the mountain ridges of Cetona, and the surrounding hills that reflect in the silvery waters of Lake Trasimeno.
Besides the natural elegance of the surrounding landscape, the very elegance of the Villa itself, a finely appointed 19th century structure, is eminently pleasing.
The villa has a beatiful swimming-pool in the garden.
At a distance of only 1 kilometer, the outline of Cortona. A city that is at once Etruscan, medieval, and renaissace. There you will find: pubs, grocery stores, fruits and vegetables, butcher, supermarket, flowers, farmacy, post office, bank and nightlife.