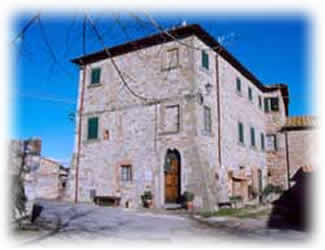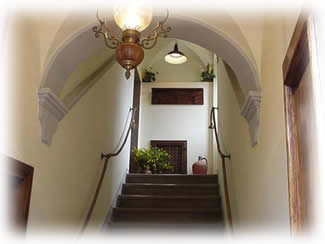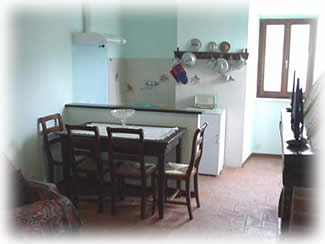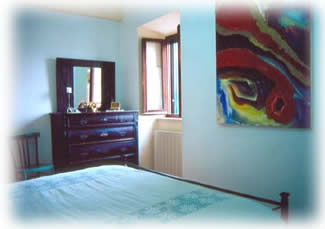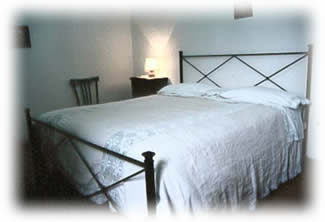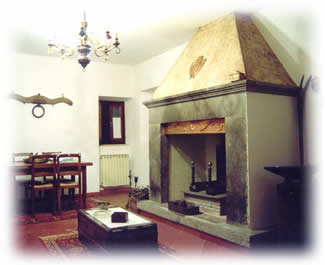 Casa Ruggeri
Casa Ruggeri is lacoted in an ancient convent on the left side of the
Duddova village, a stone building with counterforts at the base. As medieval
convents where tipically built, the house is structured in full respect of what they once represented, for this reason it is possible to admire the wide walls
with small windows, the inner stairs made with river stones manually
sculptured, the coats of arms and roman numbers carved on walls. On the ground floor is located the Wine cellar (or shop) for sale and tasting of typical Tuscan poducts. As well as the house, the wine cellar has been
restructered with full respect of its traditional role of stable, the
result is comfortable and evocative. It is pleasant to spend time sitting at the typical Tuscan tables,
drinking some good red wine together with delicious cheeses pecorini typical of this
area, or tasting spicy "pici al ragù", with mushrooms or tartufo all
prepared by Ms. Rinetta (the owner). Also the "salumi" of a special meat they represent a flower to the eyelet of the Bottega di Duddova. Famous "the flourishing ones" they are cooked on the fireplace and aromatized with aromas
of the place like the salvia, the basil, the garlic, the rosmarino, the
chili pepper and the oil of olive. The typical cakies fiorentini or in shape of
biscotti are all are executed from the valuable hands of the house cook. Guests can discover here the ancient tastes of Tuscany, but most of all, at Borgo Vallesanta they will find the kindness and familiar feeling of ancient times, which will make him feel satisfied and relaxed.


Detailed info; prices; availability inquiries on this villa in Tuscany
ACCOMODATION
Casa Ruggeri is an indipendent villa of 114 sqm. The villa can host up to 7 people. It is constituted by 2 apartments with independent entrance, have meals and enjoy the wonderful landscape all around. Not with standing this, the villa is rented as a whole. The entrance tot the villa is located on the first floor of the Ruggeri House, reachable through inner vaulted stairs. It consists of a hall with a fireplace and a cooking area and fridge. There are 2 rooms: a double and a single bedroom and bathroom with a bathtub.

Firts floor
It can host 3 people. It is composed by a large Kitchen-living room with
fireplace and sat-TV, two double bedrooms and one bathroom with bathtub.
The first floor consists of:
- Large Kitchen-living room
- 1 double bedroom
- 1 single bedroom
- 1 bathroom with bathtub.
Second floor
It can host 4 people. It is composed by a Kitchen, large living room with
fireplace and sat-TV, two double bedrooms and one bathroom with shower. The second floor consists of:
- Kitchen
- Living room
- 1 double bedroom
- 2 twin beds
- 1 bathroom with shower
FEATURES
Satellite-TV, fridge, ironing equipment, fully equipped kitchen, baby cot, central heating, wardrobe, garden with gazebo (100 meters walking distance) and parking area.