Farmhouse in Tuscany with 11 apartments and an indipendent house can accommodate 2 to 8 persons.
La Conca is a farmhouse built on the hills overlooking S.Sepolcro. It is a perfectly renovated old farmhouse immersed in 3000 acres of woods. Available for rental for your vacation in Tuscany.

Detailed info; prices; availability

inquiries on this villa in Tuscany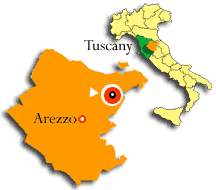 3 restored farmhouses made of rocks, furnished with original pieces of traditional Tuscanian farmers' families.
A large fireplace with BBQ corner, a "cantina" (wine cellar), a little private chapel and a relaxing swimming pool complete the atmosphere of this villa in Tuscany.
This farmhouse near Arezzo is surrounded by a large forest where several species of wild animals roam free.
San Sepolcro is 2 miles away. This is where Piero della Francesca was born and two of his masterpieces, "La Resurrezione " e la"Madonna della Misericordia", can be viewed in the local museum when you rent this farmhouse in Tuscany.
The closest towns are:
Arezzo 25 mi.
Perugia 25 mi.
San Sepolcro 2 mi.
Citta' di Castello 6 mi.