Farmhouses in Tuscany - Arezzo
Il Borgo
Farmhouses in Tuscany with 5 apartments sleep 2 to 6 persons and a fabulous swimming pool.
A farmhouse for rental close to typical Tuscanian restaurants wineries and farms. Ideal location for those wanting to explore and drive around to discover more about the culture and traditions of Tuscany.

Detailed info; prices; availability

inquiries on this villa in Tuscany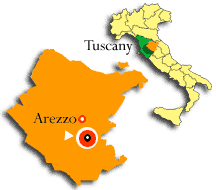 "Il Borgo" is a characteristic XIX century farmhouse in Tuscany near the ancient Etruscan hilltown of Cortona. The villa has been recently restored; and is immersed in the pleasant Tuscan countryside. The train station and shops are all within easy walking distance, and the highway is only a few miles away. "Il Borgo" is ideal for those who enjoy the outdoors: horse back riding, tennis, swimming, hiking, bicycling and shopping are all in the area; we also have a few bicycles for the guests. The grounds are surrounded by lovely gardens, perfect for outdoor meals. Il Borgo" is a family run operation and children are always welcome.
"Il Borgo" is in a strategic position for those who want to enjoy all aspects of tuscan culture. Great restaurants, wine, art, music, shopping, scenic views and hiking are all easily accessible. Il Borgo is 2 miles (3km) from Cortona , 19 miles (30km) from Arezzo, 25 miles (40km) from Siena, Perugia, or Assisi , and near to Lake Trasimeno, Montepulciano, Pienza and Montalcino all ideal day trips when you rent farmhouse Il Borgo in Tuscany.
The closest towns are:
Arezzo 19 mi.
Cortona 2 mi.
Siena or Assisi 25 mi.