Farmhouses in Tuscany - Arezzo
Il Castelluccio
Il Castelluccio is an old cottage built in local stone at 650 m above sea level and is surrounded by the vegetation of the Val Cerfone hills, in Arezzo, in Tuscny. It is ideal for whoevere wants to spend peaceful holidays in harmony with nature. There is the change to take long walks along widw, praticable roads inside a marvellous nature park where wild animals can be admired. It has four apartments furnished with local antique Tuscan furniture; supplied with water, electricity and independent heating.It has a private swimming pool and a vegetable garden for its guests. The farm holiday unit is part of the Bonucci Piero farm, which has a huge chestnut wood (marron variety) and a mill whith stone millstones in Stoppe D'Arca (AR) for producing local products such as chestnut flour.

Detailed info; prices; availability inquiries on this villa in Tuscany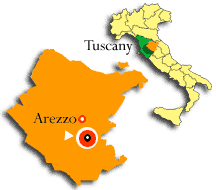 Castelluccio has got three apartments located in the principal building and a detached residence. The furniture of all these apartments is realized with typical ancient Tuscan pieces, and there is running water, electric light and a heating system.
LA CASA

La Casa (the house) surely is the oldest apartment of the whole farmhouse. An internal stairway made of stone brings to the top floor where there are: a large kitchen with an antique fireplace
a bedroom with a double bed
a bathroom with a shower and a tub
a large bedroom with a double bed and a full size bed.

LA CASINA

Casina is the detached residence, from which we can admire a beautiful view. It has: on the ground floor a spacious kitchen with a fireplace, with a double sofa-bed a beautiful stairway
on the top floor a room with a double bed, a full size bed and a bathroom with a shower.
LA STALLA

La Stalla, (the stall) is the smallest apartment, but not the less. There is:
in the ground floor a lounge with a corner for cooking a small stone stairway
in the top floor a bedroom with a double bed and a bathroom with a shower.
LA SOFFITTA

La Soffitta (the loft) is the most particular of the four apartments because of its ceiling structure. It is accessed by an outside stairway. This apartment has:
a lounge with a cooking area
a large bedroom with a double bed and a single bed small bedroom with a full size bed open area with a bed a bathroom with a shower. a toilet.