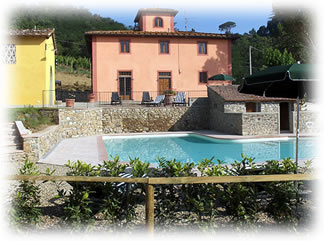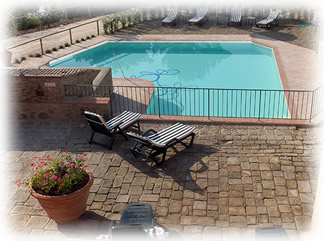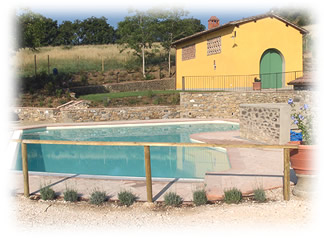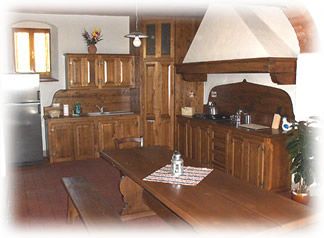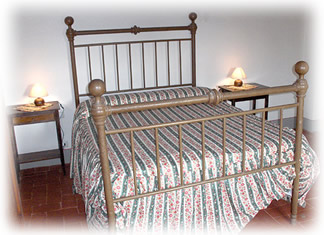 Casale Del Lago
Casale del Lago is an independent villa, 200 mq of extension, which can host up to 12 people.

In the typical context of Chianti, surrounded by vineyards, olive-groves and small woods, it rises in a dominant position upon a little lake.
The property, now completely restructured, goes back to the beginning of the XIX century, during which it was part of the farm of Count Bandini, neighbouring the village of Sant'Andrea in Percussiva where Niccolò Machiavelli lived.
The interiors are the typical ones of farmhouses of Chianti, Val di Pesa.

- air conditioning system
- washing machine
- TV room tumble dryer
- hi-fi stereo system
- dishwasher
- satellite and dolby
- surround television with DVD

At the ground floor there is a huge kitchen with the place for lunch, a bath, a lounge with a matrimonial sofa bed and hi-fi stereo system, TV room with another matrimonial sofa bed and with satellite and dolby surround television and DVD player.

You get upstairs by a stone ladder, equipped with two bathrooms and four double rooms: Rubina, Zaffira, Smeralda and Ambra, whose names are inspired by the fabrics of their fornitures.
In every room there is an air conditioning system.
Going upstairs you can find the piccionaia, with a spacious bath equipped with Jacuzzi.

The villa can host up to eight people, but it's possibile to add four people, two in the lounge, which could be considered as another room with its comfortable matrimonial sofa bed, and other two people in the TV room.

Detailed info; prices; availability inquiries on this villa in Tuscany