Farmhouses in Tuscany - Arezzo
Il Casale
Farmhouse in Tuscany Residence Il Casale with 10 apartments can accomodate 2 to 4 persons.
The Casale Residence (apartment hotel), reconstructed from a 16th century structure, looks out upon the towers, the domes, the vegetation, and the sky of Cortona, a city of ancient and mysterious origins.
Frequented by Mitterand, seat of a University of Georgia art program, and host to the prestigious Annual Exhibition of Antique Furniture as well as a monthly exhibition of antiques (on the third Sunday of each month), Cortona is a city closer to heaven than to the train station.

Detailed info; prices; availability inquiries on this villa in Tuscany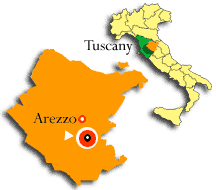 The ten apartments: divided in 2-room apartments for 2 guests and 3-room apartments for up to 4 guests, offer simple but yet elegant amenities, from furnishings to services, all with an eye to facillitating modern day living.
The Residence preserves some of its original characteristics: the split level roof and the outside stairway with its wide second floor landing. Behind a wing of the complex, the swimming pool measuring 16m x 18m (48ft x 54ft), is built according to the most modern hydraulic standards.
At a distance of only 3 kilometers, the outline of Cortona. A city that is at once Etruscan, medieval, and renaissace. There you will find: pubs, grocery stores, fruits and vegetables, butcher, supermarket, flowers, farmacy, post office, bank and nightlife.